2021-2022 Graduate Catalog
[ARCHIVED CATALOG]
WSU-Rochester
---
---
Dr. Jeanine E. Gangeness
Associate Vice President for Academic Affairs, Dean for the School of Graduate Studies
WSU-Rochester Campus, Student Services Building (SS) 304, (507.285.7134)
The Associate Vice President for Academic Affairs serves as the chief academic and operations administrator responsible for managing the WSU-Rochester campus. The AVPAA works with deans, faculty, and staff to create sustainable and collaborative programming at the undergraduate and graduate levels and works closely with the Winona campus to connect student services and programs. In addition, the AVPAA oversees WSU's School of Graduate Studies.
Student and Campus Services Office
Student Services Building (SS) 128
859 30th Avenue SE (U.S. Highway 14 and 30th Avenue SE)
Rochester, MN 55904
507.285.7100 or 800.366.5418
Winona State University-Rochester website
wsurochester@winona.edu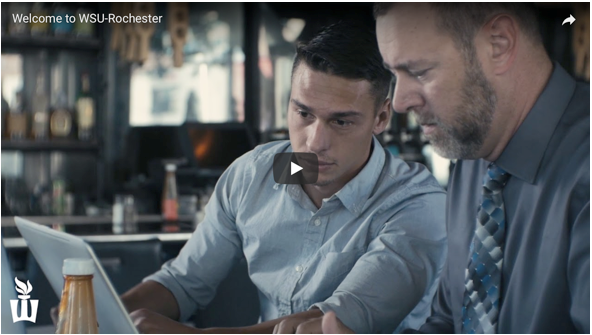 Campus Overview
Since 1917, Winona State University has served students in Rochester, Minnesota and the surrounding area. The Greater Rochester area has a population of more than 110,000 people; area residents have a high level of educational attainment, and they are highly receptive to the lifelong learning opportunities offered by WSU-Rochester.
The growing city of Rochester provides WSU-Rochester with unique opportunities to offer specialized classes and programs aimed at key industries in the area, including accounting, business, computer science, education, nursing, and social work. WSU-Rochester's strong "commitment to community" is evident as students, faculty, and staff from a variety of programs engage in experiential community-based learning in area organizations, businesses, and schools.
WSU-Rochester has served the region with distinction since 1917 and the numbers tell the story. Approximately 300 students per year graduate from WSU-Rochester. More than 1,500 students are served each year through day, evening, weekend and online/hybrid classes, and more than 7,000 WSU alumni currently live and work in a variety of professional careers in the Rochester area. Approximately 47 resident faculty are located on the Rochester campus. In addition, Winona campus faculty also teach at WSU-Rochester and a number of adjunct faculty professionals from area industries also serve Rochester students.
Housed with RCTC and in community locations, WSU-Rochester features modern facilities, technology-enhanced classrooms, and state-of-the-art Health Sciences building with clinical nursing labs and high fidelity simulation. Interactive communication and instructional technology links WSU-Rochester students with the Winona campuses and the world.
Degrees and Programs
Students at WSU-Rochester can complete several graduate degrees within different graduate programs at the Master's Specialist and Doctoral levels. For more information about graduate programs, see Degrees, Programs & Certificates .
WSU-Rochester also provides upper-division courses for the completion of a number of WSU baccalaureate degrees. Entering students can transfer credits from other institutions through individual transcript evaluation or official articulation agreements with Rochester Community and Technical College (RCTC) and other local community and technical colleges. Through these program agreements, students can complete a number of baccalaureate degree programs by transferring lower-division credits from RCTC or other accredited institutions, and completing upper-level courses at WSU-Rochester. See the WSU-Rochester section in the Undergraduate Catalog for detailed descriptions.
Non-Credit CEU/Continuing Education
WSU's Adult and Continuing Education (ACE) Department provides non-credit continuing education courses in Rochester for educators, business and industry, agencies, and government.
Admission
Students seeking a graduate degree must apply through the Graduate School office. It is also possible to enroll in graduate courses as a Graduate Special student without applying to a graduate program. The student must provide proof that he or she has earned a bachelor's degree. For more information on graduate admission, see Admissions .
Registration and Academic Records
For general information about registration and academic records, see the Registration and Academic Records section of WSU Undergraduate Catalog.
Student and Campus Services
Access Services for Students with Disabilities
Services and accommodations for students with academic needs are offered free of charge to qualified students who present documentation of a disability. Students may schedule appointments or request information by contacting WSU's Access Services on the Winona campus by calling 507.457.5878 or emailing access@winona.edu.
Campus Visits
Students are encouraged to visit the WSU-Rochester campus. For more information about programs and services or to schedule a tour, call 507.285.7100, 800.366.5418 or email wsurochester@winona.edu.
Career Services
Rochester Campus: Student Services (SS) 128 (507.285.7100)
Winona Campus: Maxwell Hall 314 (507.457.5340)
Career Services assists undergraduate and graduate students seeking career direction, part-time work on and off campus, work-study positions, summer opportunities, internships, and full-time employment. Alumni are also eligible for assistance in their search for full-time employment. Career Services provides opportunities for students to interact with employers through career fairs, job fairs, and on-campus interviews. Employment information, graduate follow-up results, and additional resources are available in the office as well as our website.
Students are encouraged to activate their Warrior Jobs account, upload, and publish their resumes with Career Services early to take full advantage of the broad range of services offered through Career Services. Once students activate their Warrior Jobs account, employers can access to their resumes directly through the website.
Students may schedule individual advising appointments to discuss career direction and questions related to the job search, to critique resumes and cover letters, and to obtain tips on interviewing. The Career Services office is open from 8 am - 4:30 pm during the academic year and from 7:30 am - 4 pm during the summer. Evening and weekend hours are available by appointment.
Computer Facilities
The Goddard Library houses a large student computer lab and a laptop rental center. Rochester computer labs allow students access to Winona network resources. WSU Tech Support also offers students to participate in the e-Warrior Digital Life and Learning Program.
In addition, WSU-Rochester graduate students have two designated graduate student study rooms: a Graduate Studies Lounge with computer access as well as a Student Activities Club room that can be used for a quiet study room for graduate students.
Counseling and Wellness Services
Personal counseling services are available to students on the WSU-Rochester campus on a regular basis. To schedule an appointment, call 507.285.7100 or email wsurochester@winona.edu. WSU-Rochester students can also access services on the Winona campus by calling 507.457.5330 or emailing counselingservices@winona.edu. 
A licensed mental health therapist from Zumbro Valley Health Center (ZVHC) is available to both RCTC and WSU-Rochester students. ZVHC services are confidential and all records are kept separate from RCTC Health Services records.
Current RCTC and WSU-R students can schedule appointments online with the registered nurse,  nurse practitioner, or mental health therapist. Students can select the service needed, choose from available days and times, and enter their information. Students will receive an appointment confirmation via email. For questions, call 507-285-7261.
Financial Aid
Students must apply for financial aid through the FAFSA website. Representatives from the WSU Financial Aid Office are available to meet with WSU-Rochester students. To arrange an appointment with a financial aid advisor call 507.285.7100 or email wsurochester@winona.edu.
Housing and Dining
The WSU-Rochester campus is a non-residential, commuter campus. However, a variety of housing options are available in the Rochester area, including furnished and unfurnished apartments, efficiencies, single room rentals, and houses.
Lancer Hospitality operates the dining and catering food services. The Fresh Stop Cafés are located on the third floor of the College Center and in the Heintz Center. The Espresso Plus is located in the Health Sciences Building. Meal plans are available for students, faculty, and staff.
International Students
Staff members from International Student & Scholar Services are available on the WSU-Rochester campus on a monthly basis. Students may schedule appointments at 507.285.7100 or request information by calling the Winona campus at 507.457.5303.
Library
WSU-Rochester students have access to the Darrell W. Krueger Library on the Winona campus. Winona campus librarians support WSU-R students both through librarians serving as liaison to individual departments and through distance education services which include email and chat reference. Students may request books and articles from Krueger Library and any other library in the state through interlibrary loan. In addition, the Goddard Library at RCTC has a large computer lab, quiet study areas, and a reading lounge.
Parking Services
Students are charged a parking fee for each semester in which their courses are held at RCTC campus. This fee will automatically be added to a student's semester billing for tuition and fees. No parking permit will be issued. Student/Visitor lots are designated.
Testing Center
Atrium - AT209
testing@rctc.edu
The Testing Center is open from 8 am - 4:30 pm weekdays. Hours are subject to change due to testing schedules. Students must contact the center at least two business days prior to taking any exams. No drop in testing can be accommodated. A photo ID is required to take scheduled exams - verbal identification from staff or faculty is not permitted.
RCTC and WSU-R offers testing services in a secure, quiet environment for students who cannot take a scheduled class exam. This has proven to be a valuable service as it is sometimes difficult to coordinate a time when students and instructors can meet for a monitored exam outside of class. In addition, students taking online or traditional courses at institutions other than RCTC and WSU may also arrange for testing times. The Testing Center also offers CLEP, DSST and Kryterion testing.
WSU students with disabilities should refer to Access Services.
Student and Campus Services Office
First Floor, Student Services Building - SS128
507.285.7100
wsurstudentservices@winona.edu
The WSU-Rochester Student and Campus Services (SCS) office has full-time staff available to provide academic and administrative services for WSU-Rochester students. The SCS office provides assistance with: access services, admissions, advising, career services, financial aid, graduation, ombudsperson, probation/suspension, registration, student life activities and events, student life clubs and organizations, and tutoring.
WSU-Rochester's Recruitment and Admissions Advisor and the WSU-Rochester/RCTC Shared Advisor are both located in the Student and Campus Services Office. To schedule a campus visit, call 507.285.7100 or email wsurochester@winona.edu.
Visiting Advisors from the Winona campus meet with students on the WSU-Rochester campus upon request. Visiting Advisors include: Academic Program Advisors, Admissions, Counseling and Wellness Services, Financial Aid, International Student & Scholar Services, Registrar, and Academic Records.
Student Disclosure Policy
Educational records of students taking classes at the Rochester campus may be made available to employees of WSU and RCTC while the student is attending the Rochester campus if access to a student record is required in order to provide services to the student.
Rochester Graduate Programs
Graduate Certificate
Master of Science (MS)
Education Specialist (EdS)
Post-Master's Doctor of Nursing Practice (DNP)
Doctor of Nursing Practice (DNP)
For more information, visit WSU's School of Graduate Studies website.
---